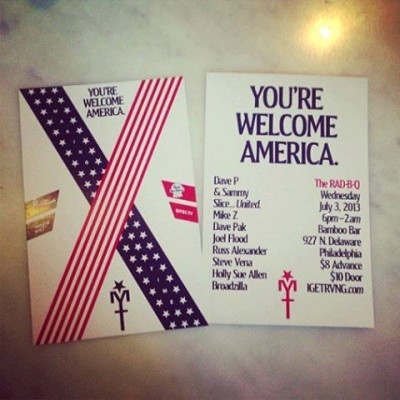 Dear Philadelphia….
Thank you so much for celebrating 13 Years of Making Time with us this past Saturday. It was truly one of the most MAGICAL Making Times we've ever shared together. You were amazing !!!
I will remember that nite forever.
But now….it's time to look to the FUTURE and in our FUTURE we have, what I think we can all agree has truly become one of raddest Making Time summer traditions of the past 13 Years….the Making Time "You're Welcome America" RAD-B-Q. and of course….#FISHBOWLS.
Move over Wawa….you may have HOAGIES & John Mayer BUT….do you have #FISHBOWLS & futuristic sounds ???
I think not !!!
Yes Philadelphia….the real 4th of July fireworks are on the Bamboo Bar dancefloor this Wednesday July 3rd, 2K13 at the Making Time "You're Welcome America" RAD-B-Q !!!
see you on the other side.
Love,
Dave P.
Making Time "You're Welcome America" RAD-B-Q
THIS Wednesday July 3rd, 2013
6pm-2am
@ Bamboo Bar
927 North Delaware Ave.
Philadelphia, PA
with Making Time resident RAD-B-Qers:
Dave P & Sammy Slice…..UNITED
http://www.xpn.org/xpn-programs/making-time
www.sammyslice.tumblr.com
&
Dave Pak
Mike Z
www.facebook.com/sortedparty
Illuminating the dance floor w/
indiedance.cocainesexjams.partytrainanthems.nitemusic.futuristicsounds.
A Rock Tits Event with
Joel Flood
Russ Alexander
Steve Vena
& SnkPaK
http://www.facebook.com/groups/113818518486/
With a combined squat weight of 600 pounds and backs like a barrel of snakes, Philadelphia's premier macho rock DJs go deep inside the Bear Den to bring you a sweaty, shirtless, unprotected party experience. Journey with us and let our capable muscular hands guide the way to a night of:
Basement Bangers
Midnight Ramblers
Barabajanglers
Heavy Sounds
Cherry Bombs
Good Vibrations
and in the HYPER-CABANA-CAGE:
The Broadzilla DJs
www.facebook.com/broadzilladjs
&
Adam Sparkles
https://soundcloud.com/adamsparkles
Making Time's third circle of Hell, that mirrorball technodrome tardis reserved only for dark dungeon funkers, wax traxx punkers, slamdance cosmonauts from the D.M.S.R, Eno-huffers and pyramid pushers; a Connect-Four sub-dub disco welcoming leather boys and invisible girls, balearic chuggers and acid house mothers, handclap drumbucket congaloids, poison arrow people of all stripes, and the scum of the earth.
Video Lights by Ricardo from Klip Collective
PYT ON THE GRILL !!!
LIL' POP SHOP POPSICLES ON THE CHILL !!!
http://lps.gopagoda.com/
FREE! FREE!! FREE!!! PBR 7-9PM
$5 1/2 FISHBOWLS w/ SAILOR JERRY + YOUR CHOICE OF MIXER 7-9PM
$5 1/2 FISHBOWLS w/ VITAMIN WATER + YOUR CHOICE OF ALCOHOL 7-9PM
$8 in advance / $10 at the door
get your advance tickets online here:
http://www.ticketfly.com/event/308253
or get advance tickets with NO SERVICE CHARGE at:
The Last Drop Coffeehouse
1300 Pine St.
Philadelphia, PA
or
Doc Martens
1710 Walnut St.
Philadelphia, PA
ps. get 10% off a pair of Doc Martens when you buy your tickets at the Doc Martens store !!!
for more info, sights and sounds:
http://www.igetrvng.com/
http://www.twitter.com/davidpianka
http://www.twitter.com/makingitmeisrad
============================
as always….stay rad & party on.