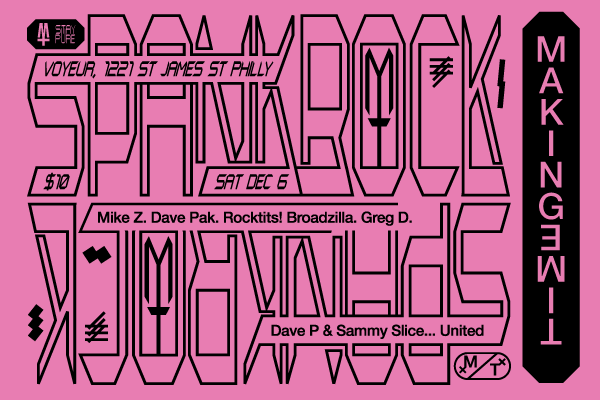 Get your tickets online here:
http://www.ticketfly.com/event/730803 or
get tickets with NO SERVICE CHARGES at The Last Drop Coffeehouse at 13th & Pine Streets or at the Doc Martens Store at 1710 Walnut Street !!!
Dear Philadelphia…..
Hi. What's up ? Did you know Our Fellow Philadelphian Mr. Naeem Juwan, aka. Spank Rock, is releasing a new record, "The Upside" on his record label Bad Blood Records on Tuesday December 9th ??? Well…he is and I am very excited to announce that Naeem has chosen to celebrate the release of his new record with us by performing LIVE at Making Time NEXT Saturday December 6th !!! Pretty rad, eh ??? YES….it is.
Naeem and I have been great friends for many many years now so this is a very special nite for us…well….not just us actually…..for YOU and me and…..Naeem…..ALL OF US !!! Wow !!! I remember meeting Naeem in 2005 right around the time he signed his first record deal with Big Dada. I remember the exact moment he told me told me of his record deal. We were at the 700 club right outside of the bathrooms downstairs. Naeem was a very shy boy then and his timid nature masked his excitement over the big news BUT….I knew he was excited and….I was excited for him. I think Diplo was too.
Well…..here we are 9 years later and Naeem is a BIG BOY now. Actually…he's no longer a boy….he's a fucking MAN. I watched Naeem blossom into this fucking man he is today and it has been such a pleasure to witness him grow. I've seen Naeem do so many great things and I've also seen Naeem do so many very stupid things. I've given him many a lecture at 7am at a weird warehouse party in North Philadelphia, mostly at 5th and Cecil B. Moore. I remember the time Sean Agnew passed out in a golf course at Coachella with no cell phone and no money and had to hitchhike to the festival. He was in dire straits and do you know who coincidentally came driving by in Sean's time of need to rescue him…..Naeem. Yes….Naeem is the kind of guy that picks up hitchhikers. He has a heart made of gold. I love Naeem. He's one of my favorite people in the world and I'm so stoked for Naeem to be playing Making Time once again and celebrating the release of what I think is going to be his raddest record yet at Making Time on Saturday December 6th.
Naeem and I have shared so many wonderful experiences TOGETHER and I'm very excited for us ALL to share a very special nite TOGETHER NEXT SATURDAY Philadelphia….me, YOU and Spank Rock !!!
see you on the other side.
Love,
Dave P.
Making Time
Next Saturday December 6th, 2014
@ Voyeur
1221 St. James St.
Philadelphia, PA
9pm-4am
SPANK ROCK (LIVE !!!)
https://soundcloud.com/spankrock
+
Dave P. & Sammy Slice….UNITED
https://soundcloud.com/makingtime
http://sammyslice.tumblr.com/
+
Mike Z.
Dave Pak
https://www.facebook.com/sortedparty
+
Rocktits!
https://soundcloud.com/rocktits
+
Broadzilla
https://soundcloud.com/broadzilladjs
+
FREE TECATE + HEINEKEN + SAILOR JERRY RUM COCKTAILS FROM 9-11PM !!!
= $10
get you advance tickets online at:
http://www.ticketfly.com/event/730803
or get tickets with NO SERVICE CHARGES at:
The Last Drop Coffeehouse
1300 Pine St.
Philadelphia
or
The Doc Martens store
1710 Walnut St.
Philadelphia, PA